What ancient craft will you preserve today?
It is easy to feel overwhelmed when you think about climate change, war, and politics. We should protest, rage against the fading of the light, but on a practical level what can we do to take control of our daily lives? This suggestion isn't going to bring world peace, but it might help you find peace of mind.
When we learn ancient crafts like nålbinding we can make useful things out of simple raw materials. A bit of bone crafted into a needle, ends of wool knotted into socks and gloves – or scrap wire into jewellery. A fun craft, and a way to enhance downtime watching something on a device or gossiping with friends. At the end of a blether you could be closer to having hand warmers.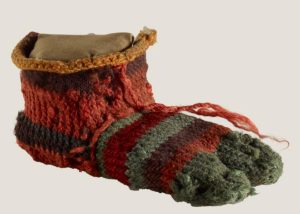 In addition, by learning and teaching the skill you actively involve yourself in the story of human adaption as part of our environment. Your participation preserves the skill you practice, and also contributes to the collective memory of how we can adapt to survive. How many people doing this in the UK would it take to make a change felt globally?
Impressive huh! But also simply knotting wool to make socks the way our ancestors have done for millennia. We rediscover how to be something essentially human.
Here is some info from the British Museum
Cluaran craft club will be back on Thursday the 28th of September.
If you already know how to nålebind why not bring it along to tales at the tap ? (6pm Thursday the 21st of September)